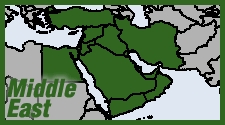 With Israeli tokers already irritable over a cannabis drought (the result of a literal drought, which has impacted farmers throughout the Jewish state and Occupied Palestinian Territories), organizers of a planned legalization rally in Tel Aviv were dealt another blow when city authorities denied them a permit.
The organizers planned to hold the rally at Rabin Square on July 15—six weeks after a similar demonstration held at the site without a permit ended in the arrest of 14 people for disturbing the peace.
The Israeli agency YNet reported June 27 that demonstration's organizer Liora Gelber received a notice from a Tel Aviv municipa official reading, "I hereby inform you that your request to hold a rally for the legalization of cannabis has been rejected." However, YNet reported later the same day that the city had relented and agreed to allow the rally pending police approval.

The affair comes as a rainless spring has resulted in a local cannabis drought. The Green Zone blog notes a June 19 interview in the daily Ha'aretz with a dealer refered to as "Z":
"In the last few months I've been getting dozens of calls every day," she is quoted as saying. "A month ago I stopped answering. All my sources are dry and even I've stopped smoking every day. My customers -- from every segment of the population -- are willing to pay massive sums. Unfortunately, I've got nothing to offer them. Before the shortage I paid a fair price for a decent bagful -- but now it's bankrupting me. It's tricky, if not impossible, to score in the city and when you do find someone who's selling, prices are astronomical."

Even so, the cost of Israeli weed would be considered quite a bargain by American medical marijuana standards. Prices rose from what was the equivalent of 75 cents a gram before the drought to the equivalent of $9 per gram today. But the per capita income in Israel is about half of that in America, so imagine paying $20 per gram of ditchweed.

The bright side is that many of Z's customers are taking it upon themselves to solve the problem.

"A lot of my friends have decided that the only option is to grow their own. As long as the police stay out of the way, in three or four months' time this should all be over."
This may also be related to an initiative by Israeli stoners to boycott Lebanese hashish imports, which are believed to fund Hezbollah terrorism.