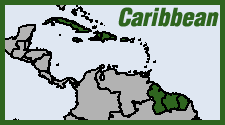 Gun battles raging in the Jamaican capital have left more than 60 people dead, hospital sources said May 25, as troops fanned out across the city hunting for accused drug kingpin Christopher "Dudus" Coke. Police put the death toll at 27, but Prime Minister Bruce Golding admits the actual figure may be much higher.
"The government deeply regrets the loss of lives of members of the security forces, and those of innocent law abiding citizens who were caught in the cross fire," Golding said. Hospital workers said the victims were mostly civilians.
Hundreds of police and army troops have been sent into the impoverished Tivoli Gardens district to hunt down "Dudus" Coke, and are meeting stiff resistance from his supporters. Witnesses reported seeing three trucks loaded with bodies, including a baby, unload their grim cargo at a morgue in one of the city's main hospital complexes.
The violence appears to be spreading beyond Tivoli Gardens. Two of the civilian casualtiess were reportedly shot by suspected supporters of Coke in Spanish Town, 14 miles west of Kingston.
Tivoli Gardens residents complained of being "roughed up" and kept inside their homes by soldiers. "We are hungry, we have no food and we cannot go outside," one woman told Reuters by telephone. "Some of us are desperate. Whenever we try to go outside our homes, the soldiers chase us back in and tell us to stay inside," she said. (AFP, May 26; Reuters, May 25)