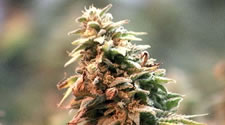 Oregon landlord and insurance agent Keith Rogers is protesting that some 30 DEA agents broke down doors on his five houses in Gold Hill Sept. 29, pointed guns at his wife, uprooted hundreds of plants and seized shotguns, cell phones and a tractor. He says he made sure the 20 people he allowed to grow cannabis on his property had checked out under Oregon's medical marijuana law. If state agents had searched his properties, "they would have happily drove off and did nothing," he said. Instead, "it was strictly DEA. They are throwing their weight around and saying the voters of Oregon don't have any rights."
Although no arrests were made, residents charge abusive and humiliating behavior. Grower James Anderson said one neighbor was hauled outside in her bra and panties and handcuffed in view of the freeway nearby.
The raid seems to have conformed to guidelines put forth in Justice Department memos directing federal agents to enforce drug laws, even in states that have legalized medical marijuana. A June 29 memo signed by Deputy Attorney General James Cole instructed federal agents should not waste their time on individuals such as cancer patients, but that "prosecution of significant traffickers of illegal drugs, including marijuana, remains a core priority."
Allen St. Pierre of the National Organization for the Reform of Marijuana Laws (NORML) explained how the DEA generally interpret the guidelines: "They have an unspoken rule they tend to employ. They are really looking for anything over 100 plants. If it is below 100 plants, it does not invite civil forfeiture the way large patches do."
Oregon law allows a grower to have six plants or 24 ounces of processed cannabis for each of up to four patients. So the total maximum amount allowed for all 20 growers would be 480 plants. That amount would cover the 472 that federal agents say they found. But grower Anderson said the real number was closer to 200. Rogers added that agents seized paperwork verifying that those growing on his property were within the law. (AP, Sept. 30)
Photo by Barbara Doduk