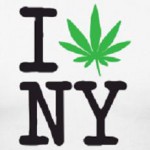 The Daily News on April 9 couldn't resist two sophomoric jokes in the lead line of its story on New York's governor axing chances for passage of a medicinal cannabis bill this year: "Gov. Cuomo provided a buzz-kill Monday to a new legislative push to legalize medicinal marijuana that is being fired up." Andrew Cuomo told the newspaper that legalization of marijuana for medical purposes has "tremendous risks," and is unlikely to be taken up by the Legislature this year. "I understand the benefits, but there are also risks, and I think the risks outweigh the benefits at this point," Cuomo said, reiterating the position he took during his 2010 campaign for governor.
Staten Island state Sen. Diane Savino is the lead sponsor of a medical marijuana bill expected to be introduced to the Legislature soon. But Cuomo expressed doubt there would be enough time for the Legislature to address the measure before its session ends in June. "That issue is going to take a great deal of time to analyze it properly," he told the News. Savino herself conceded it would be "wildly optimistic" to expect action by the Legislature in 2012—an election year.
Advocates are nonetheless trying hard to assuage the fears of cultural conservatives. "Nobody is trying to pass a California-like law," Gabriel Sayegh, director of the New York Drug Policy Alliance chapter, told the Village Voice. "Nobody wants a 'wild west' situation like in California. The bill in New York makes it so medical marijuana is heavily regulated and for people who really need it."
Graphic from The Weed Blog