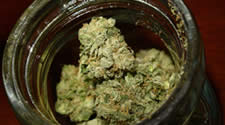 On Sept. 14, the ACLU of Colorado endorsed the Campaign to Regulate Marijuana Like Alcohol, which would legalize the use of cannabis for those 21 years of age and older in the state. In a statement on the endorsement, the ACLU chapter said:
In Colorado we believe our laws should be practical and they should be fair. Yet we are wasting scarce public resources in our criminal justice system by having police, prosecutors and the courts treat marijuana users like violent criminals. It is unconscionable for our state to spend tax dollars to arrest, prosecute and crowd the courts, and jail people for possession of a small amount of marijuana, especially when those being arrested and jailed are disproportionately people of color.

The war on drugs has failed. Prohibition is not a sensible way to deal with marijuana. The Campaign to Regulate Marijuana Like Alcohol will move us toward a more rational approach to drug laws.
The group Sensible Colorado and other supporters have announced a major signature push over the next two weeks in an effort to get their proposed measure on the 2012 state ballot. The campaign has collected nearly half of the 145,000 signatures needed to qualify. (420 Times, Sept. 24; 420 Times, Sept. 18)
Photo by the Mad Pothead