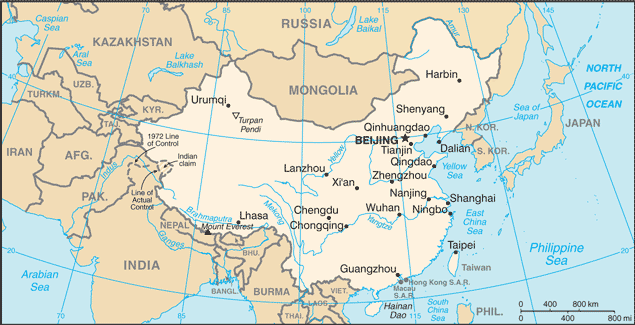 Hong Kong's South China Morning Post reports May 12 that Chinese authorities are warning of a rapid rise in abuse of synthetic drugs. The number of "registered abusers" of synthetic drugs—a whopping 1.46 million who get high on methamphetamine, ketamine and ecstasy—for the first time overtook that of registered heroin addicts last year, according to the National Narcotics Control Commission. In total, there were said to be 2.95 million registered abusers of all drugs, but the NNCC estimated the real figure—including those not registered—was over 14 million. NNCC deputy chief Liu Yuejin said cross-border trafficking was also rising because of the increasing demand for drugs in the People's Republic—but also that internal production is rising, wth drug laboratories shifting from coastal areas to inland provinces.
These claims are backed up by the UN, to an extent. The UN Office on Drugs and Crime last year found that use of synthetic drugs have overtaken opiates worlwide, with China accounting for a significant share of reported global ketamine seizures in recent years. According to the UNODC, 44 ketamine labs were uncovered in China in 2007; 81 were found in 2012. Of the 326 drug labs busted by Chinese authorities in 2012, the UNODC said 228 were making methamphetamine. In January 2014, a massive police operation netted 2.9 metric tons of methamphetamine at a clandestine lab in Lufeng, Guangdong. This year, another 2.4 tons have already been seized in the same city.
Professor Dennis Wong Sing-wing of the City University of Hong Kong was quoted as saying: "The rapid social development has brought people more stresses and strains that many have resorted to drugs to alleviate." Could be, but North Korea certainly hasn't been experiencing any "rapid social development," and there is apparently a meth plague there too.
We don't doubt that social alienation (whether due to "rapid social development" or plan old dictatorship) is fueling drug use in China, and synthetics like meth may be favored in part because of the simple inaccessibility of organics—it may be easier to procure the chemicals to cook up meth than seeds to grow any decent cannabis. We also don't dismiss the possibility that the figures are inflated. There is little accountability in China's closed bureaucracy, and (as in every nation on Earth, including the good ol' USA) anti-drug hysteria is a convenient means of social control.
In any case, this sobering news certainly points to the futlity of the hardline approach. While the number of executions in China is kept secret, Amnesty International believes thousands are put to death there every year, including for drug offenses—as we've noted. And while the populace is left to cook meth, Chinese industry is actually given a freer hand to experiment with cannabis for development of patented medicines than are companies in the United States—a phenomenon we've recognized as China's cannabis contradiction. Rigid Communist-style social control for the masses, freewheeling capitalism for the elites. Gotta love it.
Cross-post to High Times
Graphic: Perry-Castañeda Library Map Collection