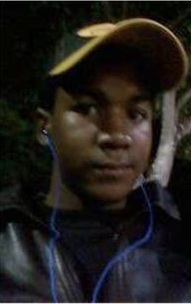 ThinkProgress notes that over the last 48 hours, there has been a sustained effort to smear Trayvon Martin, the unarmed 17-year old African American shot dead last month in Sanford, FL, by self-appointed "neighborhood watch" vigilante George Zimmerman—who has notoriously still not been arrested. Martin's mother, Sybrina Fulton, said, "They killed my son, now they're trying to kill his reputation." Sleazy tricks apparently include circulation of a picture on Michelle Malkin's website Twitchy of a tough-looking kid in baggy pants which was passed off as from Martin's Facebook page (it wasn't—his actual Facebook photo is pictured here). Here are some other dirty tricks documented by ThinkProgress:
The Sanford Police selectively leaked irrelevant, negative information about Martin. The authorities told the Orlando Sentinel this morning that Trayvon was suspended from school for ten days "after being found with an empty marijuana baggie." There is no evidence that Martin was under the influence of drugs at the time of his death, nor would prior possession of marijuana be a reason for killing him. It's unclear what the relevance of the leak was, other than to smear Martin. [Orlando Sentinel]

Without any evidence, prominent right-wing bloggers suggested that Martin was a drug dealer. Right-wing blogger Dan Riehl advances the theory, also advanced in a widely linked peice on a site called Wagist. There does not appear to be any evidence to support this claim whatsoever. [Riehl World View]
What is the point of all this? If Martin had smoked (or dealt) cannabis, then Zimmerman was justified in killing him? The racist legacy of the USA's cannabis laws could not be more clear. All too little seems to have changed in this country since Harry Anslinger's day... And come to think of it, why should anyone be suspended from school for possession of an empty baggie?