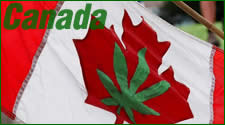 Canada is about to make history, with passage of its cannabis legalization bill imminent. Prime Minister Justin Trudeau is the man of the hour, shepherding the first Western industrialized country along a course that was nearly unthinkable a generation ago. But it was activist efforts that really brought Canada to this point—and advocates are still fighting to keep a place for small growers and vendors in the new system.
Bill C-45, the Canadian Cannabis Act, passed the Senate in Ottawa on June 7 by a vote of 56-to-30 with one abstention. Law-makers still have to bring the House and Senate versions into conformity before it goes to Justin Trudeau's desk for his signature. Many Conservative legislators are adamantly opposed, but they don't have the votes to block it. The prime minister's pledge to bring legal cannabis to Canada by July is set to become a reality.
Anne McLellan, the former chair of the federal task-force that crafted the Cannabis Act, admonished the private companies now preparing to expand from the medical to recreational market that they will have to play by the rules. Addressing a World Cannabis Congress in Saint John, New Brunswick, she warned: "We've seen this too often with big tobacco and big pharma... The rules are there...but they'll push right up against those rules and then make us take them to court, for example, to get clarity."

As the Canadian Press reported, she emphasized that, for example, no advertising will be allowed for the private corporate producers. A picture emerges of a tighly controlled industry in government-licensed hands.

Activist pressure made this possible
Many are apt to forget today that when Canada took its first steps on the path to legalization, unveiling its national medical marijuana program in 2001, it was only because Ottawa was forced to do so by pressure from below. It was the previous year's landmark decision in Regina v. Parker, concerning Toronto-area epilepsy sufferer Terrance Parker, that forced the government's hand. Ontario's top court ruled that Canada's Narcotics Control Act violated the country's Charter of Rights and Freedoms by forcing Parker chose between his freedom and his health.

It was in response to this ruling that Health Canada established the Marihuana Medical Access Regulations (MMAR). Under this program, patients could grow their own plants at home, designate someone to do it for them, or purchase through Health Canada, A group of private companies were recognized as "Licensed Producers" to cultivate for the program, with Prairie Plant Systems of Saskatoon (today CanniMed) the flagship enterprise.

Controversy broke out again in 2013, when Ottawa moved to establish the Licensed Producers as the sole source for legal medical cannabis. Health Canada overturned the MMAR, revoking the right of patients to grow their own or designate a grower. The new system, the Marihuana for Medical Purposes Regulations (MMPR), mandated that patients purchase mail-order dried cannabis from the Licensed Producers.

But in April 2014, just days before the switch was to take effect, a case challenging the new regs, Allard vs. Her Majesty the Queen, won an injunction halting the ban on patient cultivation. However, that case—won by Neil Allard, a neuro-immune disorder sufferer in British Columbia, in March 2016—only applied to the 45,000 patients under the former MMAR system, who were allowed to keep growing their own. Anyone signing up with the new MMPR system would have to purchase from the LPs.

Attorneys for the government in the Allard case argued openly that the Licensed Producers would "need a captive market to get established."

The turn toward general legalization came when Justin Trudeau launched his campaign for prime minister in 2015. At a September campaign stop in British Columbia, Trudeau announced: "The Liberal Party is committed to legalizing and regulating marijuana… We are going to get started on that right away."

Contradictions of the new cannabis order
Now Trudeau is making good on that promise. Things may open up in terms of supply—but not everywhere. Questions such as whether to allow home cultivation are being left up to the provinces, creating a regulation patchwork across the country. The power of Canada's First Nations to regulate cannabis on their reserves is still not defined, and is a source of more contention. But the LPs are certainly poised to dominate the "recreational" market.

In ominous news for those hoping for greater elbow room tor independent producers and vendors under the new system, Toronto in recent months has seen a vigorous crackdown on dispensaries that had been operating in a legal "gray zone"—technically illegal but tolerated. PotFacts.ca reported last April that there had been over 175 raids on cannabis-related businesses since Trudeau was elected in 2015.
Veteran Canadian activist David Malmo-Levine actually challenged cannabis prohibition in the courts in 2003. A British Columbia court ruled against him in Regina v. Malmo-Levine—but with a dissent that guaranteed him a hearing before Canada's high court. In December of that year, the case did go before Canada's Supreme Court, which predictably upheld the the lower court ruling. Malmo-Levine is watching the new system that Canada is crafting with a critical eye.
Malmo-Levine told Cannabis Now: "Estimates of the 'gray market' is north of six billion—the legal market is expected to do less than a third of that in it's first year. How those ratios change will depend upon whether or not the gray market can convince judges that they deserve to be legalized, or whether the LPs succeed in creating the captive market they've admitted to wanting the government to create for them."

The cannabis legalization that is coming to Canada is the fruit of long activist efforts. And such efforts will clearly still be needed to assure that legal cannabis unfolds with a sense of equity.

Cross-post to Cannabis Now
Photo by PhotoPhreak