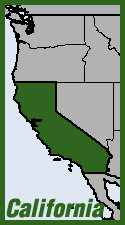 The Regulate, Control and Tax Cannabis Act of 2010 will appear on California's November ballot, state election officials announced March 24. Secretary of State Debra Bowen certified that the petitions had hundreds of thousands more signatures than the 433,971 minimum needed to qualify. Supporters turned in 694,248 signatures, collecting them in every county except Alpine. County election officials estimated that 523,531 were valid.
The measure would make it legal for anyone over 21 to possess up to an ounce of cannabis and grow plants in an area up to 25 square feet for personal use. It would also allow counties and municipalities to permit cannabis to be grown and sold, and to impose taxes on production and sales. (Examiner.com, Drug War Rant, LAT, March 25)
Supporters tout the measure as a panacea for California's ailing economy. "We need the tax money," said Richard Lee, founder of Oaksterdam University and a backer the ballot measure, told the New York Times March 26. "Second, we need the tax savings on police and law enforcement, and have that law enforcement directed towards real crime."
But others are concerned about economic impacts if the measure is successful. On March 21, The the Eureka Times-Standard in Humboldt County reported that local business people, officials and "those involved in the marijuana industry" met to "break a long-standing silence to talk about what supposedly is the backbone of Humboldt County's economy — pot. More specifically, the meeting will focus on the potential economic effects of the legalization of marijuana."
"It's time to talk about the elephant in the room," said organizer Anna Hamilton.
A 2009 analysis from the State Board of Equalization cites a 2006 report that estimates that $35.8 billion of pot was grown in the US in 2006, with California being the top producing state. The same report said California produced $13.6 billion in marijuana in 2006.
Humboldt Country Supervisor Mark Lovelace, who is co-chair of a California State Association of Counties working group on marijuana, said, "We have to recognize that if we have something that is this big a piece of our economy that is subsidized by being illegal, that this is an unsustainable situation"
Hamilton believes it will be "devastating" to the North Coast's Emerald Triangle region, displacing thousands of people who work in the cannabis industry unless alternatives are found that allow residents to capitalize on legalization. "We have to embrace marijuana tourism, marijuana products and services—and marijuana has to become a part of the Humboldt County brand," Hamilton said.