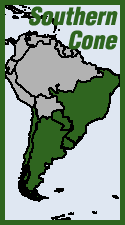 At least 13 inmates were killed and some 30 injured in a clash between rival gangs Oct. 10 at Pedrinhas prison in São Luis, in Brazil's northeastern state of Maranhão. Authorities said violence broke out after guards discovered inmates digging an escape tunnel. The inmates fought the attacking guards and started a fire, as members of rival gangs took advantage of the confusion to settle scores. Then, as news of the conflagration broke, relatives of inmates gathered outside the prison, demanding information. When this was not forthcoming, they began to throw stones at the guards, fought back police, took over a roadway, and set several buses on fire.
Overcrowded Pedrinhas is notorious for its gang warfare, housing many members of Maranhão's leading drug-trafficking syndicate, Bonde dos 40. Earlier this month, three inmates were killed in apparent gang attacks—one of them decapitated. Another was electrocuted last month when he got entangled in cables used to light an escape tunnel. Brazil's Minister of Justice, Jose Eduardo Cardozo, said last year that Brazil has "a medieval prison system, which not only violates human rights [but] does not allow for the most important element of a penal sanction, which is social reintegration." (LAHT, BBC News, O Povo, Fortaleza, Oct. 10)
Even under the leftist government of President Dilma Rousseff, Brazil has seen a wave of angry protests this year, with rage focused on all the new sports stadiums being built for the 2014 World Cup soccer championship as healthcare, education and other public services languish underfunded. It seems many of the 12 new stadiums don't even have a clear purpose once the Cup is over. But local officials in the Amazon riverport city of Manaus are proposing that the stadium being built there be used a prisoner processing center. (AP, Sept. 24)
See our last post on the prison crisis in Latin America.
Cross-post to High Times