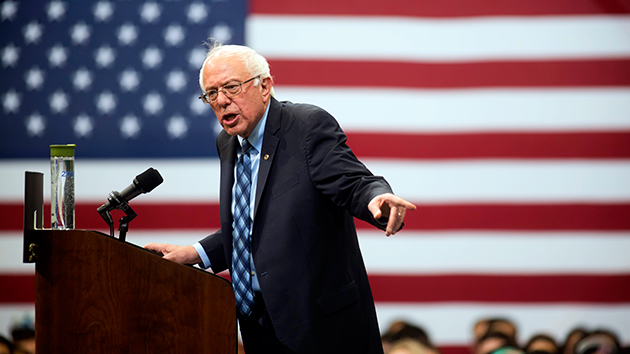 Bernie Sanders has released his plan for cannabis legalization, which features provisions to keep Big Tobacco from colonizing the new industry. But other exponents of corporate power are already getting a jump on the cannabis sector, and could just as effectively squeeze out independent operators.
Bernie Sanders, the self-professed "socialist" and by far the most populist of the Democratic presidential hopefuls, on Oct. 24 released the contenders' most forthright and ambitious cannabis legalization plan—actually setting a goal of removing the plant from the Controlled Substances Act within his first 100 days after taking office.

Bernie's populist pot platform
There are many encouraging aspects to Bernie's pot platform. Outlined on the "Legalizing Marijuana" page on his campaign website, the plan pledges to "vacate and expunge all past marijuana-related convictions"—a growing demand of legalization advocates.

It would "ensure that revenue from legal marijuana is reinvested in communities hit hardest by the War on Drugs," and includes an analysis that will win applause from advocates of cannabis equity: "When we talk about criminal justice reform and ending institutional racism in America, we are talking about ending the disastrous war on drugs, which has disproportionately targeted people of color and ruined the lives of millions of Americans.."

It would "create a $20 billion grant program within the Minority Business Development Agency to provide grants to entrepreneurs of color who continue to face discrimination" in the cannabis industry.
And finally, it articulates this important goal: "Ensure legalized marijuana does not turn into big tobacco."
"Big Tobacco is already targeting the marijuana industry for its profits," the platform states. "As president, Bernie will not allow marijuana to turn into Big Tobacco." Instead, he calls for programs to "Incentivize marijuana businesses to be structured like nonprofits," with an emphasis on cooperatives that will "create jobs and economic growth in local communities."

He would also: "Ban companies that have created cancer-causing products or [are] guilty of deceptive marketing. Ban tobacco/cigarette corporations from participating in the marijuana industry. Institute market share and franchise caps to prevent consolidation and profiteering."

And in an implicit reference to the current wave of pulmonary illness associated with vaping (now responsible for over 30 deaths from coast to coast), the platform demands: "Regulate the safety of marijuana products by granting the federal government regulatory authority. Partner with USDA to establish safety inspection and quality control processes for growers and producers."
Threat of Big Tobacco is real
There is no doubt that Big Tobacco has designs on the cannabis biz. That threat is, in fact, already upon us—making Bernie's proposals all too timely.

CNN reported last December that tobacco giant Altria—Virginia-based owner of Philip Morris and Marlboro cigarettes—had invested $1.8 billion in Canadian cannabis giant Cronos Group, the Toronto-area licensed producer that last year became the first canna-business to be listed on the NASDAQ. The investment gave Altria a 45% stake in the company, with an option to increase its stake to 55% over the next five years.

Of course both companies waxed optimistic and enthusiastic about the deal. "Altria is the ideal partner for Cronos Group, providing the resources and expertise we need to meaningfully accelerate our strategic growth," said Cronos CEO Mike Gorenstein in a statement.

"Investing in Cronos Group as our exclusive partner in the emerging global cannabis category represents an exciting new growth opportunity for Altria," echoed Howard Willard, Altria's CEO, in his own statement.

The Altira website now states: "Altria Group holds diversified positions across tobacco, alcohol and cannabis."
And we can expect more such news. This July, the Financial Times reported that Imperial Brands, UK-based producer of Davidoff and Gauloises cigarettes, made a big investment in the cannabis sector with a £75 million deal to take a stake in Vancouver's Auxly Cannabis Group.
"Diversifying our next generation products portfolio with this investment provides Imperial with further options for future growth," said Imperial's chief development officer Matthew Phillips, in the predictable corporate-speak.

And this was not the company's first such investment. Last year, Imperial took a small minority stake in British biotech company Oxford Cannabinoid Technologies. The name leaves little doubt what plant its research is focused on.
But what about Big Pharma and Big Booze?
But Big Tobacco isn't the only corporate interest poised to descend on the cannabis sector and establish dominance—nor the principal one.

Certainly when it comes to patenting cannabis products, it is Big Pharma that has the big lead. Last year, a study jointly undertaken by Washington DC-based cannabis industry analyst New Frontier Data and London-based cannabis biotechnology firm Grow Biotech named the top applicants for cannabis patents in Canada (where such patents are more available than elsewhere), Seven of Canada's top 10 cannabis patent holders were found to be major multinational pharmaceutical companies, including Ciba-Geigy (a subsidiary of Swiss giant Novartis), New York-based Pfizer Products and the United Kingdom's GW Pharma.
.
In March 2013, it was announced that one of Canada's leading licensed producers had entered a partnership with the national subsidiary of Sandoz (also a wing of Novartis). The deal, hailed as a milestone for the arrival of cannabis in the corporate economy, called for joint research and co-branding by British Columbia's Tilray and Sandoz Canada.

Big Booze is also pursuing synergy wth Big Bud.

CNBC reported in August 2018 that the Canadian subsidiary of Molson Coors had entered into a joint venture with the Hydropothecary Corporation, a Quebec licensed producer, to produce cannabis-infused drinks for the Canadian market. Lagunitas, a California beer brewer owned by the Dutch giant Heineken, is already marketing a cannabis-infused sparkling water brand called Hi-Fi Hops. Yes, it contains hops, like beer, but contains no alcohol—just THC. It's being marketed in California, where beer now has to compete with legal pot. It seems the booze biz may be adopting an attitude of "If you can't beat 'em, join 'em."

Nearly simultaneously, one of North America's top brewers sank $4 billion into the continent's top legal cannabis cultivator. Shares of Ontario-based licensed producer Canopy Growth Corp jumped nearly 30% after beer giant Constellation Brands announced its investment in the Canadian company.

After years of lobbying against cannabis legalization, both Big Pharma and the alcohol industry have recently turned around on the question. Last year, the Wine & Spirits Wholesalers of America (WSWA) issued a policy position in support of states' rights "to establish a legal, well-regulated, adult-use cannabis marketplace," taking many observers by surprise.

The case for a tobacco-cannabis firewall —but is it enough?
Among the various reasons for a legal firewall keeping Big Tobacco out of the cannabis industry is danger of the addictive and carcinogenic products of the former being conflated with the decidedly safer and friendlier products of the latter in the public mind.

This was well illustrated in comments this week by Sen. John Cornyn (R-TX) of the International Narcotics Control Caucus. In a speech on the Senate floor ahead of hearings on the health impacts of cannabis, he questioned the push to end federal cannabis prohibition—and drew a dubious analogy to the tobacco industry.

In comments reported by Marijuana Moment, Cornyn said: "There's no shortage of people who claim that marijuana has endless health benefits and can help patients struggling from everything from epilepsy to anxiety to cancer treatments. This reminds me of some of the advertising we saw from the tobacco industry years ago where they actually claimed public health benefits from smoking tobacco, which we know as a matter of fact were false and that tobacco contains nicotine, an addictive drug, and is implicated with cancers of different kinds."

This despite the fact that studies have demonstrated that moderate cannabis use holds no risk of lung damage—in vivid contrast to tobacco. And there is mounting evidence of the medical efficacy of cannabis for various ailments.

So, much of the progress that has been made in eroding the cannabis stigma in recent years could be reversed through its association with tobacco.

But more importantly, in the struggle between small producers and home cultivators on one hand and corporate cannabis on the other, the threat doesn't just come from the tobacco industry. Maybe there's a case for Bernie's proposed firewall to be extended to the pharmaceutical and alcohol industries as well.

Of course, many of the giants of today's cannabis landscape have arrived at their dominant position without infusions of capital from these other industries—pointing to a more intractable long-term dilemma.
Cross-post to Cannabis Now

Photo by
Democratic Underground