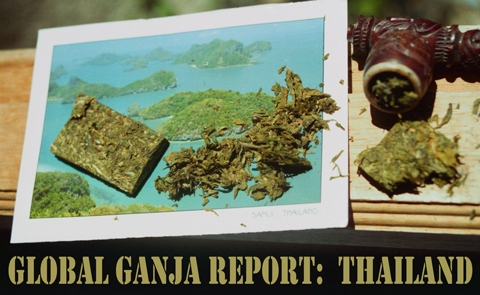 Cannabis Market Report
Bangkok is the best place to score weed in Thailand. Tuk-tuk drivers are often able to score. The Pat-Pong district is full of hustlers, sex workers, cops and narcs. Kho San Road, the budget travel and backpacker strip, is a good place to find reefer people, but is also full of scam artists and hotels of negligible security. The islands in the south offer Full Moon parties where German tourists spin glow sticks to techno music all night. Mushrooms, pot and ecstasy flow at these events. Ask your scuba instructor to help you score. Some restaurants on the diving islands offer marijuana edibles and access to a small shack where a waiter cuts bong loads on a stone block, with or without opium. In the north, yoga freaks learn the incredibly salubrious art of Thai massage while opium entusiasts zone out nearby. Chiang Mai is headquarters for the South East Asia sector of the US Drug Enforcement Adminstration, so beware of pushy Americans offereing to help you score. The pot is cheap, usually selling for around $15 for a few grams of olive-green, stringy, syrupy, pretty decent weed compressed into cracker size wafers.
More Reports »
Local laws
Thailand Marijuana Laws
Thailand's Narcotics Act is among the harshest drug laws on earth. You can get long prison terms for possession of even small quantities—and the death penalty for larger quantities of "hard drugs," last used in 2004. A few Europeans and Aussies have been faced with lengthy terms and threat of execution in recent years after getting busted in Thailand—although for heroin and methamphetamine, not cannabis. Tourists busted with cannabis frequently get off with a 5,000 bahat ($20) fine—after a short stay in jail waiting to see the judge. "Short" can mean several days, not hours. You might be afforded the privilege of posting $2,000 bail.
Our Koh Tao informant warns visitors to "keep an eye out for regular raids by the Maritime police," who sometimes arrive in a small fleet of boats and conduct searches of cabins. "The jails are filled with sunburned hippy tourists waiting for someone to post their fine." Try to avoid being one of them.