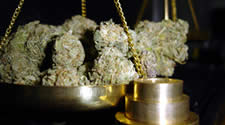 The Arkansas Supreme Court announced Sept. 27 that it will allow the Arkansas Medical Marijuana Act ballot initiative to go before the voters in November. The decision came in a suit brought by the Coalition to Preserve Arkansas Values (CPAV), which argued that the initiative text was "insufficient" as the full ballot title of the act is 384 words long and that "voters will not have adequate time in the voting booth to be reasonably advised on the impact of the Act." CPAV also claimed that the initiative would have been contrary to the US and Arkansas constitutions. In denying the CPAV's claims, the court found that the text is free of "misleading tendencies or partisan coloring," and that the summary "informs the voters in an intelligible, honest and impartial manner" about what the measure would do.
The court also declared it would not consider CPAV's claims of unconstitutionality that are based entirely on hypothetical situations which might arise if the initiative were enacted. Arkansas would be the first state in the south to legalize medical marijuana if the initiative passes in November.
Arkansans for Compassionate Care, the group behind the initiative, said its proposed law includes limits on the number of dispensaries, as well as strict controls over who is eligible to use cannabis under the measure. The group gathered 120,000 signatures to put the measure on the ballot, almost double the number that state law requires. It received financial assistance from the Marijuana Policy Project, a Washington, DC-based group that advocates decriminalization of cannabis. "We hope that this will be a model for other states to go with in the future," said Christopher Kell, campaign strategist for the Arkansas group.
But the opposition remained intransigent. "Medical marijuana is not about providing health care to people," said Larry Page, executive director of the Arkansas Faith and Ethics Council, a CPAV member organizatiion. "What's driving this is the effort to legalize marijuana for recreational use." (Jurist, WSJ, Sept. 27)
Photo by the Mad Pothead